[Update] Abolishment of Critical Allowance: The Verdict
Last updated on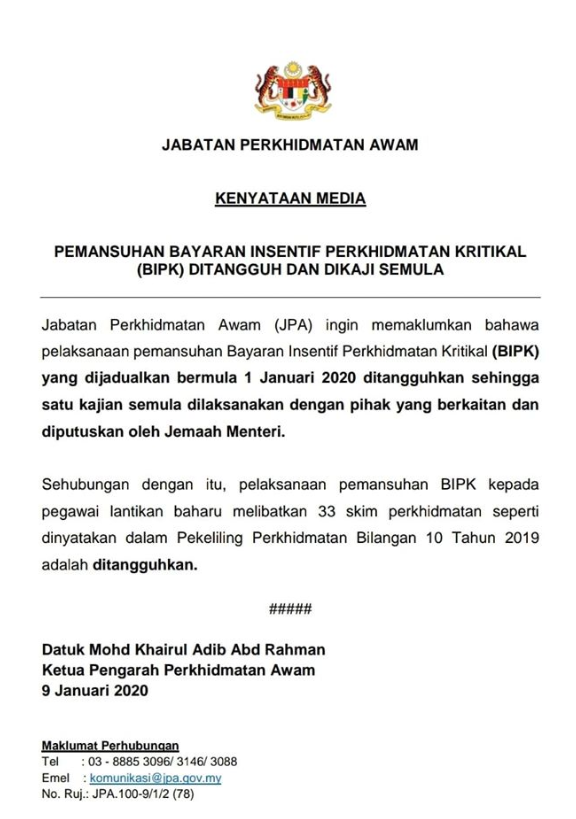 This is a third update on the ongoing case regarding the abolishment of BIPK. To understand the background of the story, be sure to have a read at it here. Second update can be found here. 
All eyes were on the Cabinet since its announcement of the abolishment of the Critical Allowance (BIPK). Different parties and stakeholders were waiting with bated breath as they had a cabinet meeting this past Wednesday.
The first cabinet meeting of 2020 went on for a long time and concluded that the Critical Service Incentive Allowance for civil servants will stay and its status, whether or not it will be retained or amended, will only be decided at the end of this year. 
"Prime Minister Tun Dr Mahathir Mohamad listened to varying views from different ministers. The Cabinet decided that the Critical Service Incentive Allowance for the civil servants be continued and that they will only decide on this much later in the year – whether we will continue or we will eliminate it, " said a source.
A minister who wished to remain anonymous told Code Blue that 90% of the recipients of the allowance are from the healthcare sector. Since the salary scheme in this sector has not been the most lucrative, abolishing BIPK would make things worse. 
"…the repeal of the BIPK for new officer appointments involving 33 service schemes as stated in the Service Circular No 10 2019 has been postponed," Public Service director-general Mohd Khairul Adib Abd Rahman said.
JPA made an official statement over in their Facebook page, stating that changes to BIPK will be postponed until further research is conducted.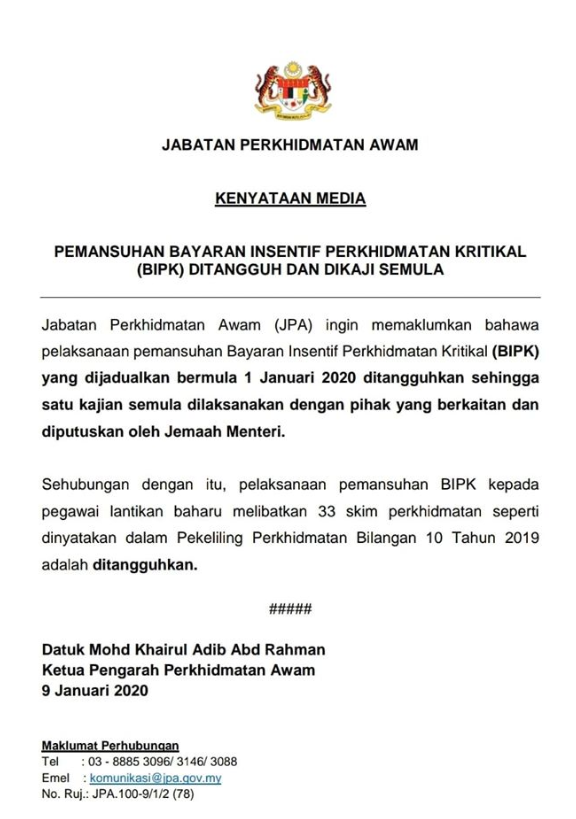 The storm is not completely over as we wait for the final verdict at the end of this year. The silver lining, though temporary, is that those who enter the civil workforce this year can rest assured that they will still be eligible for the allowance.