Sihat4u
Sihat4U is a platform which serves to educate the public on health related topics and issues. It is run by a group of pharmacists voluntarily, aiming for a better public health, to create a better health future.
Sihat4U merupakan satu platform bertujuan untuk menyebarkan mesej dan isu-isu mengenai kesihatan awam sambil meningkatkan kefahaman dan pengetahuan masyarakat dalam topik kesihatan. Inisiatif ini adalah hasil ahli farmasi secara sukarela.
Vision
To increase public health literacy.

To strengthen the ties between pharmacists and public.
Visi
Meningkatkan kesedaran dan pengetahuan masyarakat tentang kesihatan.

Mengukuh dan mengeratkan hubungan antara ahli farmasi dengan komuniti.
Mission
To promote self-care & share health related information

To provide the public with a channel to sound their concerns on pharmacy and health related issues

To educate the public on the roles of pharmacists
Misi
Menggalakkan penjagaan hidup sihat dan penyebaran informasi tentang kesihatan.

Berfungsi sebagai platform untuk meluahkan kebimbangan tentang isu farmasi and kesihatan.

Memupuk kesedaran awam tentang peranan ahli farmasi dalam bidang kesihatan.
❤️ 

SHOW YOUR LOVE CONTEST

❤️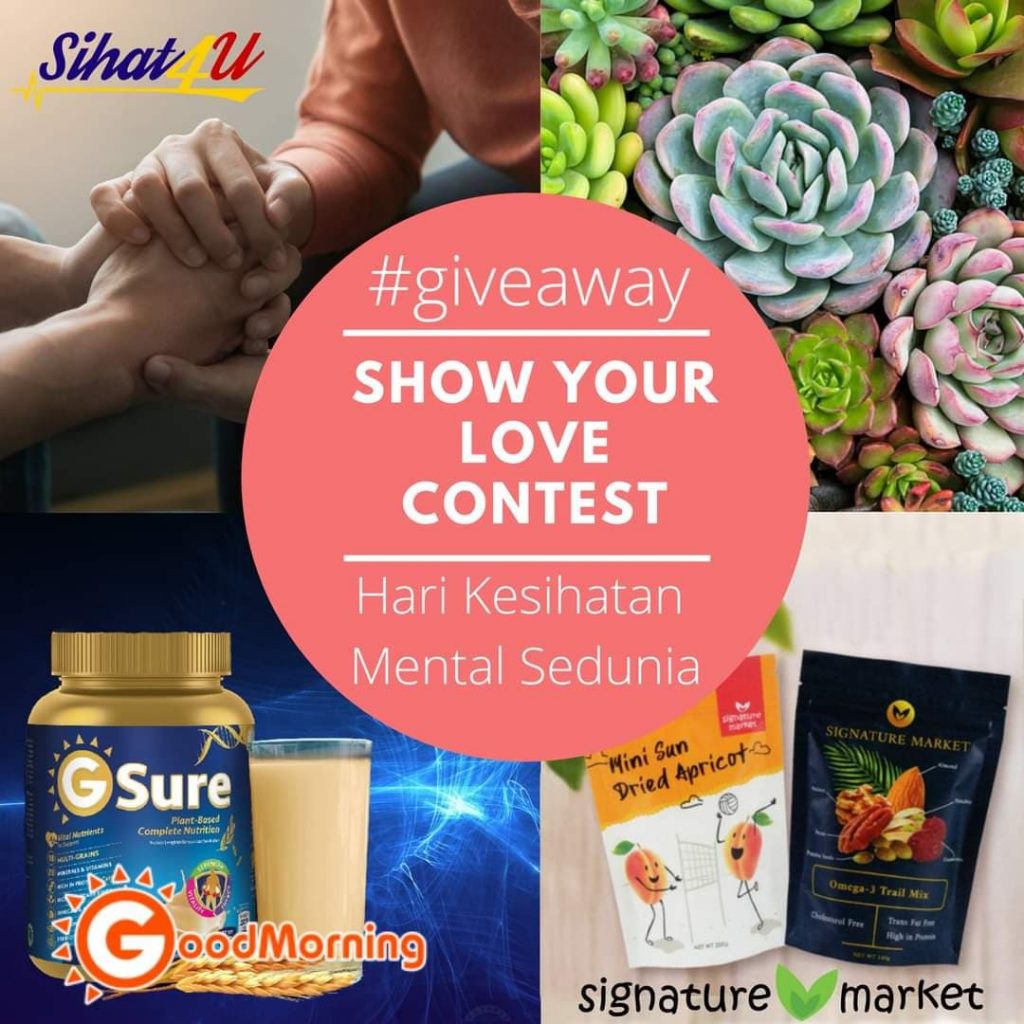 In conjunction with World Mental Health Awareness Day 2020, mind-soothing succulent, Omega-3 rich dried fruits + nuts products and nutritional drinks are ready to be grabbed!
16 Prizes to be won!
10 lucky winners will be getting 20 sachets of Gsure nutritional drinks.
3 best pictures will be awarded with healthy snacks from Signature Market worth RM 50!
3 pictures with best captions will be awarded mind-relaxing succulent worth RM50!
No worries! First 200 participants will be getting voucher worth RM40 from Signature Market. Act now to get the freebies !
[Malaysia is experiencing the unprecedented impact of current global health emergency due to outbreak of COVID-19. The level of anxiety, fear, social distancing and emotional distress in work, relationship have become widespread. Economics are experiencing a down slope and many people are losing their supports. Mental health is a human right, accessible primary healthcare is the foundation to universal health coverage, mental healthcare should be for all – for everyone, everywhere. So, we are here to encourage everyone to show your love to people around you.
Join us in spreading the loves ❤
#mpsypc #sihat4u #shareyourlove #mentalhealthawarenessday2020 #harikesihatanmentalsedunia2020 #giveaway]
1. Upload any photo about showing loves to someone (Examples: gathering photo with family members or friends, selfie about self-care or anything about love) to your Facebook account (set as public post) with the caption in the bracket [] above OR any additional captions OR own captions with the same hashtag.
2. Like Sihat4u Facebook page and tag 3 friends in the comment section of this post [original post]to join the contest.
3. One photo is considered one participation.
4. You can increase the numbers of participation by sharing any mental health awareness related post from Sihat4u Facebook page.
5. One share will be counted as one participation. The more you share, the more participation entitled for the lucky draw.
1. Only for Malaysians.
2. Contest ends on 31st October 2020.
3. Results will be announced on 7th November 2020.
4. One person is eligible to one prize.
5. Winners will need to provide full name and identification card number for documentation.
6. The decision is finalised and winners will be contacted via our official Facebook page – Sihat4u.
7. Admin Sihat4u reserves the right to amend the prize allocation without prior notice.