Topical Preparations Counselling Guide for Pharmacist
Last updated on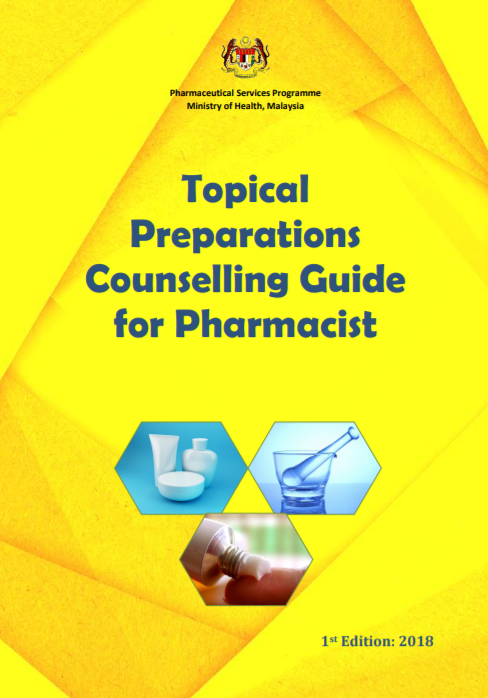 Topical Preparations Counselling Guide for Pharmacist is the first edition of its genre. It aims to provide information for pharmacists specifically on topical preparations available in the Ministry of Health (MOH) formulary and relevant counselling points on its usage in providing effective and accurate patient education regarding their medicines.
The contents of this quick guide will be helpful for pharmacists providing care for patients in ensuring proper use of medications and for patients to be aware of possible side effects. This guide is categorised into 3 different chapters: Infective skin conditions, chronic non-infective skin conditions, and acne vulgaris.
You will be able to find information on the different skin conditions, a brief background and useful pictures on each condition, their respective treatments complete with the mechanism of action, side effects and counselling points.
Although constructed for the purpose of usage within the MOH, this guide indubitably provides a helpful insight on the treatment of skin conditions even to pharmacists working in the private sector.
DISCLAIMER This guide would serve as a handy reference for PHARMACIST ONLY and not as a complete drug information resource. It is NOT intended to replicate or replace the knowledge, skills and experience of trained dermatologist/ health professionals, nor is it a substitute for clinical judgement and advice. The nature of healthcare/ drug information is that it is constantly evolving with ongoing  research and clinical experience and is often subject to interpretation. While best effort has been made to ensure the accuracy of the  information and recommendation presented, reader is advised that the contributors, editors, reviewer and publisher cannot be responsible for the continued updates of the information, of any errors or/and of any consequences arising from its application.
This guide can now be readily downloaded here.