Wait…did you say Polio?
Last updated on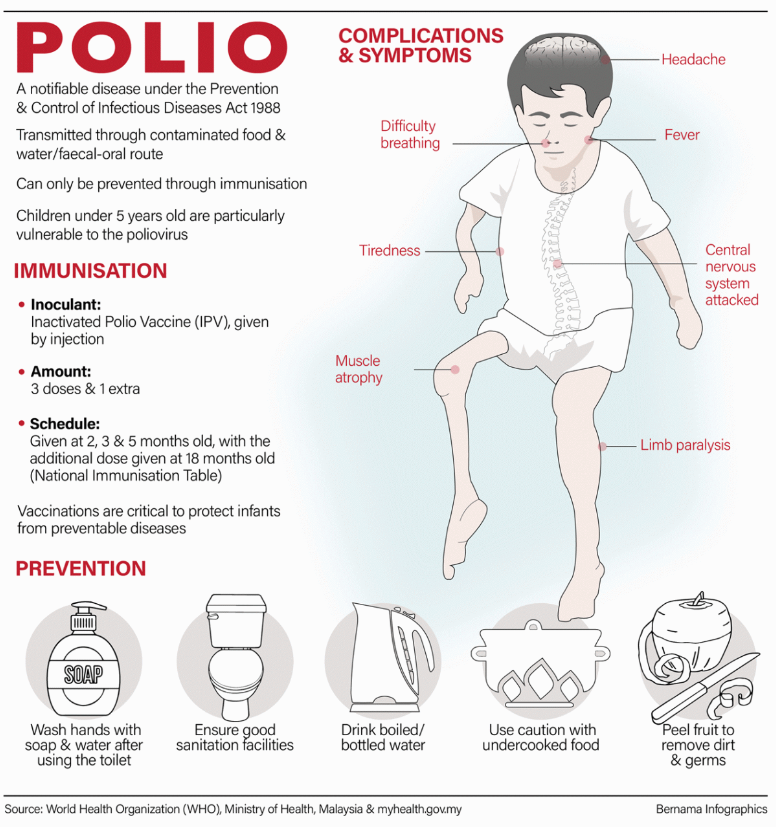 Written by Bryan Tan – Marketing and Communications Associate at YPC, currently a PRP at a retail pharmacy, and pun enthusiast
A disease which was officially eradicated back in 2000 when Malaysia was declared polio-free has recently resurfaced. A 3-month old boy from Tuaran, Sabah was recently diagnosed with vaccine-derived poliovirus type 1 (VDPV1) after being admitted into a hospital's intensive care unit.
The poliovirus affecting the child is classified as a circulating vaccine-derived poliovirus type 1 (VDPV1), which originates from a poliovirus which has been weakened by orally-administered polio vaccines. This weakened virus is excreted from the body via faeces, and will potentially affect those who are not vaccinated against Polio.
On 9 December, Director General of Health Datuk Dr Noor Hisham was quoted as saying that efforts to vaccinate has been increased in the child's home village upon further investigations finding out that 25 out of 204 children were not vaccinated against Polio.
The World Health Organisation and Unicef have been assisting Malaysia with technical advice on outbreak response, on-the-ground monitoring and support for risk communication. They also advised parents or guardians to ensure their children, especially those under five years old, to be fully and properly vaccinated.
Here are 3 things you need to know about Polio:
1) Poliomyelitis mainly affects children aged 5 and below.
Polio is a diseased caused by a virus. It invades the nervous system and causes paralysis within hours. It is transmitted mainly through the faecal-oral route.
2) We are currently 99% of the way to eradicating Polio globally.
When the Global Polio Eradication Initiative was formed in 1988, polio was paralyzing more than 350,000 people per year. Since then, polio case numbers has dropped a massive 99%.
3) There are just 3 countries which have never stopped transmission of polio.
These are Afghanistan, Nigeria and Pakistan. Due to weak health systems and poor sanitation, polio virus can spread from these endemic countries to infect other countries with subpar vaccination rates.
Original articles can be found here and here. Facts were taken from the WHO webpage and fact files on Polio. Image credit: Bernama Infographics.