World Pharmacists Day (WPD) 2018
Last updated on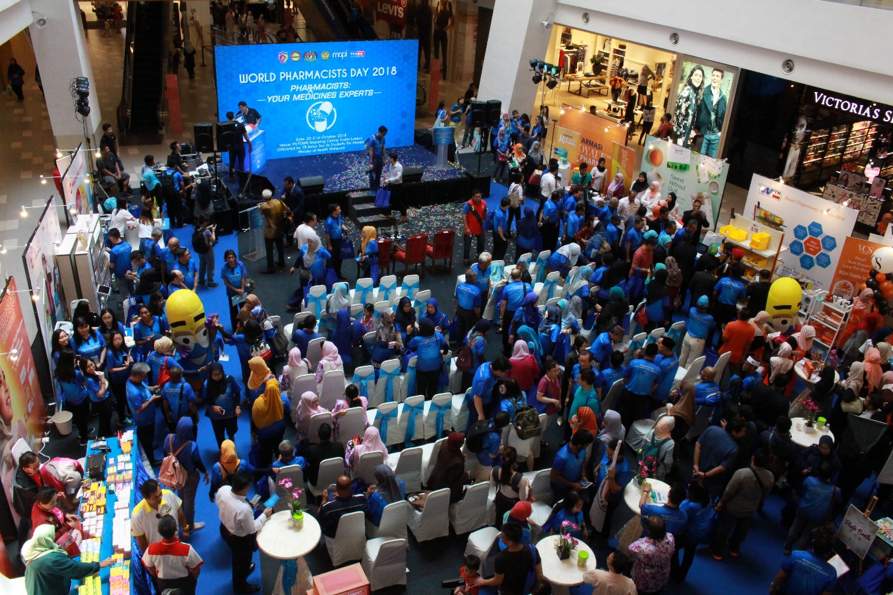 The annual World Pharmacists Day (WPD) celebration, took place on 20th and 21st of October at MyTown Cheras. With this year's theme of 'Pharmacists: Your medicines experts', this nation-wide celebration aims to raise awareness to the public about the many roles and contributions of pharmacists to the healthcare system. This two-day event was officiated by Health Minister Datuk Seri Dr Dzulkefly Ahmad, and jointly organized by six parties, namely, Kementerian Kesihatan Malaysia (KKM), Angkatan Tentera Malaysia, Malaysian Pharmaceutical Society (MPS), Malaysian Community Pharmacy Guild (MCPG), Malaysian Organisation of Pharmaceutical Industries (MOPI) and Pharmaceutical Association of Malaysia (PhAMA).
Various fun activities, games, and talks were held to engage the public throughout this event. As a part of the festivities, MPS Young Pharmacists Chapter (MPS-YPC) organised several interactive activities including photo booth, stage games and station games with educational themes to pique public interest.
MPS-YPC also invited several speakers from different fields to talk about the roles of pharmacist in different settings, as part of WPD's 'Meet Your Pharmacist' sessions. MPS-YPC's speaker invitees were: Mr Lim Kean Ping with the title 'A Mission to Empower the Public by a Community Pharmacist', Mr Syed Azmi Alhabshi speaking on his experiences as Chairperson for Pelindung Kanak-kanak Wilayah Persekutuan and founder of Persatuan Untuk Anak Kita (PUAK), and MPS-YPC chairperson, Dr Mai Chun Wai, speaking on pharmacists' contribution on research expertise in medications.
Overall, MPS-YPC's involvement in WPD had good participation and was well received from both public and pharmacists.