COVID-19 VACCINE: Is this the Silver Lining of the Pandemic?
Last updated on
Malaysia has been hit with the 3rd wave of the COVID-19 pandemic and we have recorded more than 100,000 positive cases. Post 1st anniversary since the first recorded case in Wuhan, it is not something to be proud of as we climb higher to the top of the charts *shrugs*. Our country had initially been doing well in controlling the outbreak, so what went wrong?
With the different kinds of Movement Control Orders being imposed across the country, people had started to loosen up despite the ongoing pandemic. It seemed as though we are going back to the 'old normal'. With that being said, our next biggest hope in halting the pandemic will be on the upcoming mass vaccinations across the globe. Nevertheless, when the entire globe has been vaccinated, will we be forever free of COVID-19? That's another can of worms to be opened in the years to come.
How do vaccines work?
Generally, vaccines are created to expose the human body to an antigen that will not cause the disease, but rather elicit an immune response that can block or kill the virus if a person gets infected [1].
We have learnt from history that vaccines are able to prevent communicable deadly diseases and eventually eradicate them. Some examples are polio, smallpox and measles. Hence, major pharmaceutical companies are racing against time to produce a vaccine that is safe and efficacious to the public.
Let's take a brief look at the types of vaccines being developed with the infographic below:
As of today, only two vaccines are FDA-approved for emergency use via Fast-Track Designation – Pfizer/BioNTech's Comirnaty and Moderna's mRNA-1273. While four other vaccine candidates received early approval to vaccinate certain groups of people in relevant countries such as in China and Russia. Fret not, there are more to come as the results from clinical trials emerge in the first quarter of 2021. The goal is to get everyone across the globe vaccinated.
Check out all the vaccine candidates with ongoing pre-clinical and clinical trials listed by WHO [2] (updated biweekly on Tuesdays and Fridays).
Also, this is a very cool and interactive COVID-19 vaccine tracker [3] to keep yourselves up to date with the latest updates!
This may be the biggest vaccination programme in our decade!
Though we may be slightly behind the many developing countries in receiving COVID-19 vaccines, Malaysia is also doing its part in getting the entire population vaccinated through the COVAX facility (Read more on COVAX Facility) while also reaching out to top companies with vaccine candidates in phase III clinical trials.
On 22nd December 2020, the Ministry of Health announced on their Facebook page that RM2.05 billion will be allocated to the procurement of COVID-19 vaccines for 26.5 million Malaysians, which covers about 82.8% of the Malaysian population. As one of the best healthcare systems around the world, the government ensures that the vaccination is FREE for all Malaysians. Listed below are the vaccine candidates our country will be obtaining: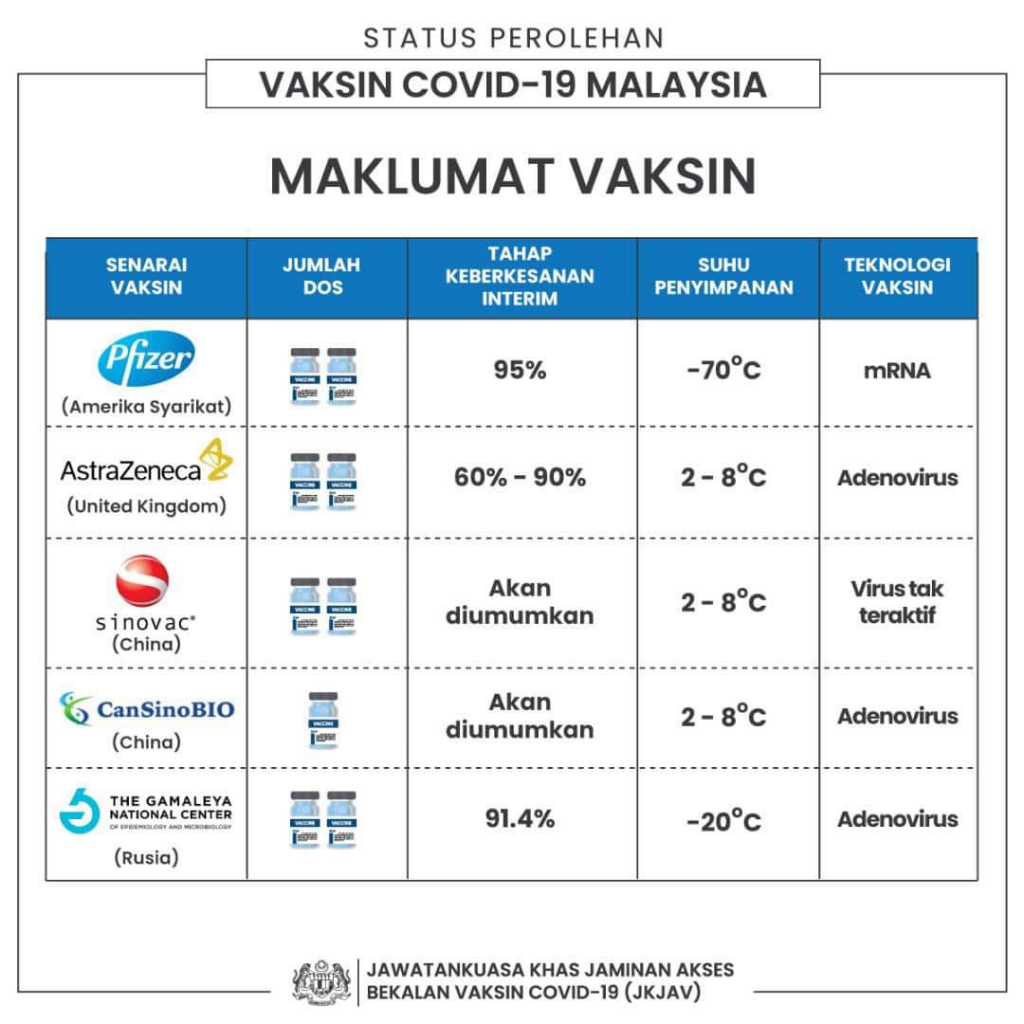 In the meantime, how are our southeast Asian counterparts doing [4]?
Country
Strategies
Indonesia

Indonesia needs about 246 million doses to vaccinate 107 million people aged 18 to 59 years old.
The world's fourth most populous nation is banking on both Western and Chinese vaccines, ordering 125.5 million doses from Sinovac and 30 million from Novavax Inc. while developing 57.6 million of its own Merah Putih
It's seeking another 16 million from the global GAVI vaccine facility while talks are also on for 100 million from AstraZeneca Plc and Pfizer Inc. for possible supply
Indonesia plans to be able to vaccinate 16 million people a month, with production seen as the main bottleneck instead of the logistics of getting the shots across thousands of islands
The country will offer free vaccines to people, and President Joko Widodo has ordered the finance minister to reallocate spending on other matters toward the free shots. He will also be the first to be inoculated as a way to show people that it is safe.

Philippines

The country wants to have at least 50 million vaccine shots next year to inoculate about a fourth of the population, the bulk of which will likely arrive by the end of 2021 or early 2022. Priority for vaccinations will be given to medical front liners and workers in industries deemed critical, including low-income groups and those identified as at risk.
The nation is eyeing 73.2 billion pesos ($1.5 billion) in vaccine purchases that it plans to fund with financing from multilateral agencies, state-owned banks and companies and bilateral sources, Finance Secretary Carlos Dominguez said.
It expects to soon sign deals for the supply of as many as 60 million coronavirus vaccine doses for delivery as early as the second quarter of 2021, according to vaccine czar, Carlito Galvez.
This includes an agreement with AstraZeneca for 20 million doses, and the country was assured of 30 million doses by Serum Institute of India which will produce Novavax Inc's vaccine, Galvez said.
Foreign Affairs Secretary Teodoro Locsin, in an interview with CNN Philippines Dec 21, said talks with Moderna Inc. will begin on or before Dec 30.

Singapore

The city-state has set aside roughly $750 million for vaccines, tapping the likes of Arcturus Therapeutics Holdings Inc., Moderna Inc., Pfizer and Sinovac for supplies. It estimates there will be enough doses for its population by the third quarter of 2021 and will be able to offer vaccinations for the entire population of more than 5 million by the end of next year.
Frontliners, the elderly and vulnerable will be prioritized in the nation's vaccination program.
It aims to vaccinate the entire adult population, though this will be voluntary.
Vaccines will be free for all Singaporeans and long-term residents.
NOTE: In addition to those listed below, Moderna has concluded an agreement with the Ministry of Health to supply the country with its mRNA-1273 vaccine.

Thailand

Thailand wants to inoculate about 50% of its population by next year. It plans to get 26 million doses from the World Health Organization-backed COVAX program, 26 million from AstraZeneca, and 13 million more from other sources, providing immunity to more than 30 million people. Not wanting to rely solely on inoculations from abroad, Thailand is also developing its own anti-coronavirus shot.
An mRNA vaccine research project is set to start the first phase of clinical trials in April and the second phase in June. The vaccines may be available by end-2021 after receiving emergency-use authorization.
A DNA vaccine effort by Thailand-based BioNet-Asia is expected to start its first phase of human trials in Australia early 2021.

Vietnam

The country is working on developing vaccines and will work with suppliers when vaccines are available, according to a spokeswoman at the foreign affairs ministry.
Vietnam is in talks with Pfizer and other medicine manufacturers in the U.S., U.K., China and Russia on acquiring coronavirus shots, Tuoi Tre newspaper reported, citing health ministry officials.
Vietnam's Nonogen Pharmaceutical Biotechnology plans to start this month first-phase clinical trials of its coronavirus vaccine Nanocovax, with production in 2022 if tests are successful.
Two other Vietnamese vaccine manufacturers will start human trials for their coronavirus shots in February and March.
South-East Asian countries' COVID-19 Vaccination Timeline:
A silver lining?
It's great news that these vaccines are working and may provide us with the immunity we all need towards the 'pandemic of the decade'. Truth to be told, the pressure has urged developers to hasten the process of building a vaccine from scratch which usually takes up to years to perfect the formulation. Phase III clinical trials have shown great efficacy in inducing an immune response towards the SARS-CoV2. However, these vaccines are currently not being trialled in children below the ages of 12 [5] and with the rise of new variants of the coronavirus (UK's VUI-202012/01). On top of that, the scale of post-marketing surveillances of these vaccines (side effects profile, allergic reactions etc.) will prove to be gargantuan and this will be a huge challenge.
Yes or No to COVID-19 Vaccines?
With that being said, people like you and me would be contemplating whether or not to vaccinate. Some may worry that the vaccines might cause its recipients to be infected by the coronavirus; Some may doubt the consistencies of the efficacy of these different vaccines; Some might even be sceptical towards the safety of these 'rushed' vaccines… Still, would you vaccinate to have a chance at being safe or continue to have COVID-19 render our lives in this new normal?
If you already have an answer to that question, take just five minutes to answer this survey by our MOH COVID-19 VACCINE: ACCEPT OR REFUSE. This allows our ministry to know about your perceptions and thoughts on the upcoming vaccination.
The vaccines will not arrive in Malaysia until the first quarter of 2021 so in the meantime, stay safe folks! MPS-YPC urges you to follow SOPs until the vaccines arrive!
The opinions expressed in the article are the writer's own and do not reflect the view of MPS YPC. All information is updated as of publication date.
References:
Callaway, E., 2020. The Race For Coronavirus Vaccines: A Graphical Guide. [online] Nature.com. Available at: <https://www.nature.com/articles/d41586-020-01221-y> [Accessed 27 December 2020].
Draft landscape of COVID-19 candidate vaccines. Who.int. (2020). Retrieved 27 December 2020, from https://www.who.int/publications/m/item/draft-landscape-of-covid-19-candidate-vaccines.
More Than 4.4 Million Shots Given: Covid-19 Vaccine Tracker. Bloomberg.com. (2020). Retrieved 28 December 2020, from https://www.bloomberg.com/graphics/covid-vaccine-tracker-global-distribution/.
Sayson, I., & Jiao, C. (2020). Southeast Asia Covid-19 vaccine tracker: Who gets what, when. Bloomberg. Retrieved 28 December 2020, from https://www.bloomberg.com/news/articles/2020-12-24/southeast-asia-covid-19-vaccine-tracker-who-will-get-what-when.
The Star TV. (2020). No plan to give Covid-19 vaccine to children at the moment, says Khairy. Retrieved from https://www.thestartv.com/v/no-plan-to-give-covid-19-vaccine-to-children-at-the-moment-says-khairy