Meet 'Maya' – Your New BFF for Family Planning
Last updated on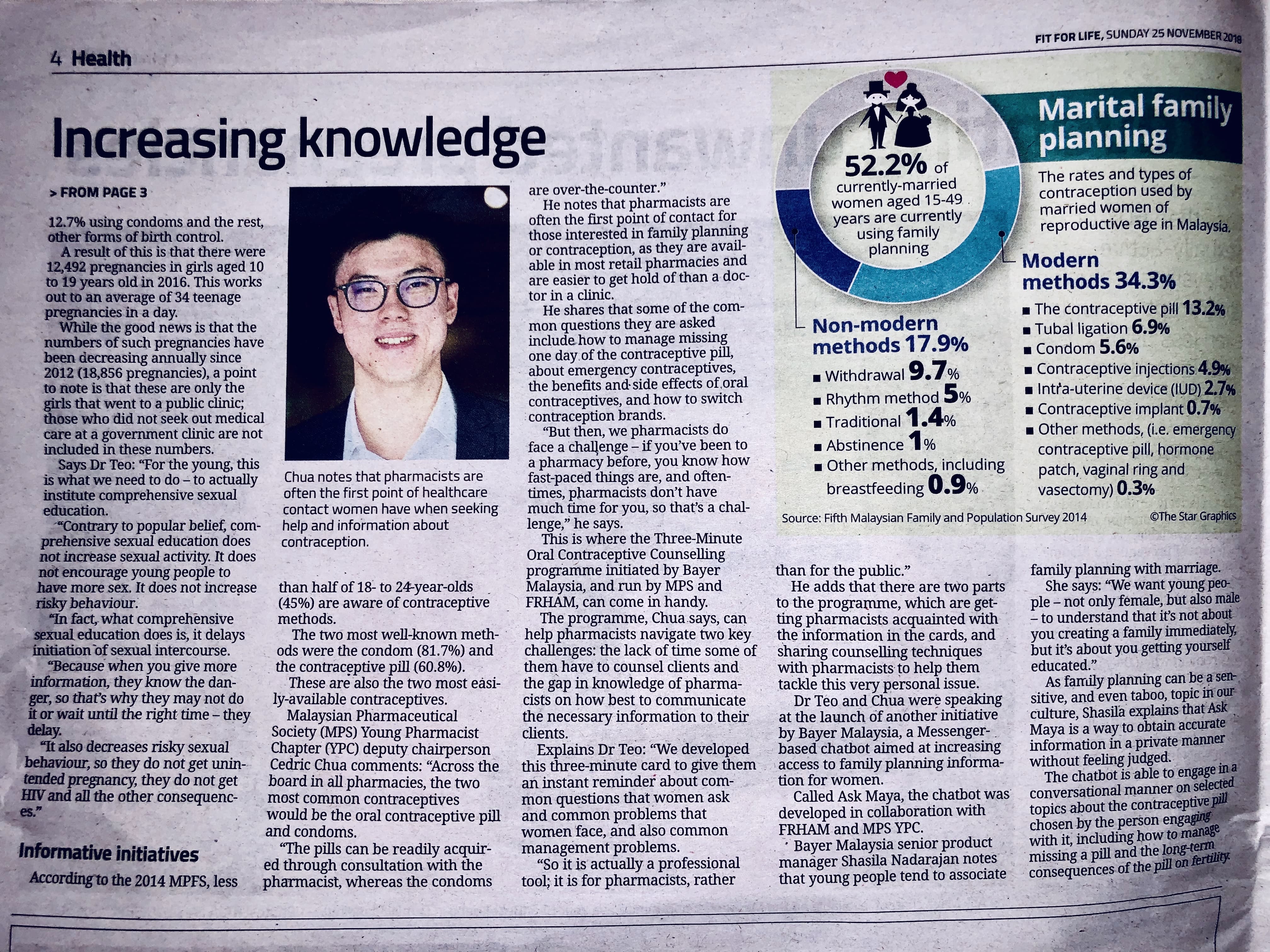 In conjunction with World Contraception Day (WCD) which takes place on 26th of September every year, Bayer Co (Malaysia) has launched a chatbot named Ask Maya to empower women to ensure every pregnancy is wanted, every childbirth safe and every girl`s potential fulfilled. The 'Ask Maya' chatbot initiative has been made possible through Bayer's partnership with the Federation of Reproductive Health Associations Malaysia (FRHAM) and the Malaysian Pharmaceutical Society – Young Pharmacist Chapter (MPS-YPC).

'Ask Maya' facilitates women's access to the right information and empowers them to adopt the appropriate contraceptive methods in their family planning. The chatbot provides information and options to women on contraceptive methods such as the usage of contraceptive pills, condoms and intrauterine devices. It also has relevant FAQs, pill reminders and calendars and will prompt users to consult a physician if they have more pressing questions.
According to Mr. Cedric Chua Chong Jie, Deputy Chairperson of the Malaysian Pharmaceutical Society – Young Pharmacist Chapter, "Women are generally shy when it comes to intimate topics. Our role is to encourage them to be brave while empowering as many pharmacists as possible to reach out to these women with the right information. 'Ask Maya' definitely promotes positive interactions on family planning in today's setting."
"We are also pleased with the outcome of the '3-minute Oral Contraceptive Counselling' programme that Bayer has initiated. This program helps to address the current challenges pharmacists face in providing oral contraceptive counselling. To date nearly 1000 pharmacists are trained nationwide by key O&G experts in collaboration with MPS and FRHAM. This programme will continue into 2019 with online Continuing Professional Development (CPD) modules, workshop and certifications," added Chua.
Chat now here: m.me/AskMayaNow or search for 'AskMayaNow' via Facebook messenger to speak to Maya herself!
Online article from Star2: https://www.star2.com/health/2018/11/27/over-4-in-10-malaysians-risk-getting-pregnant-during-sex/