Come, let us do our part to combat epilepsy!
Last updated on
Written by Dr. Mohd. Farooq Shaikh – Senior Lecturer, Jeffrey Cheah School of Medicine & Health Sciences, Monash University Malaysia
As many of us know, epilepsy is the third leading disease among other neurological disorders that affect millions of people worldwide. An international meta-analysis revealed that the prevalence rate is approximately 1 in every 157 individuals. Malaysia alone has about 320,000 people with epilepsy. It does not only affect the individual but also the families. The economic burden is extremely high as it includes indirect cost like unemployment, premature death of the individuals and time, money and energy of caregivers. According to a recent publication in Epilepsia stated that "people with epilepsy are at higher risk of premature death than people without epilepsy. Discrimination or stigmatization of people with epilepsy is common in Asia and can affect their education, work, and marriage opportunities. Access to epilepsy treatment varies throughout Asia. Although highly advanced treatment is available in some countries, up to 90% of people with epilepsy are not adequately treated or are not treated with conventional antiepileptic therapy in resource-limited countries. People in remote areas often do not receive any epilepsy care".
Although studies found that people with epilepsy are able to lead normal and self-sustaining lives independently, including carrying out daily tasks such as driving, receiving tertiary education and having a steady job, the stigma revolving epilepsy is still discernible. Public education and raising awareness remain crucial in the effort to destigmatize epilepsy, especially in Asian countries. Improving the communication between the health service sector and the public could ameliorate the negative preconceived belief and discrimination against people with epilepsy. This would, in turn, increase their employability and acceptance by the society, at the same time reduce their burden dealing with seizures. I always explain to people by saying, if somebody were to be diagnosed with diabetes or heart disease and it does not affect one's employment and relations however, when someone discloses he/she has epilepsy, they end up losing their jobs and getting divorced. That's the sad truth about our society. Malaysian Epilepsy Society is making efforts to overcome these issues in Malaysia but support from young pharmacists will be a great support as they deal with the people regularly.
Currently, the drugs available in the market only offer symptomatic relief, but they do not prevent the development of epileptogenesis. Although we have more than two dozen anticonvulsant drugs available; still one-third of the patients have drug-resistant epilepsy, where the drug treatment was not able to induce sustained seizure remission. They are also limited to certain types of seizures and some could result in side effects like cognitive dysfunction as an example. My research group at Monash Malaysia is studying the impact of anticonvulsant drugs on cognitive functions in a zebrafish model and the results are quite exciting. The drugs are quite costly, and therefore, phenobarbital was proposed by the Global Campaign Against Epilepsy to solve the treatment gap in developing countries, making it the drug of choice in rural communities. There are also available alternative forms of therapies other than drugs, including surgery, dietary control, and neuromodulation but unfortunately, it is not suitable for all patients and all types of epilepsies.
Recent advances in artificial intelligence also enabled the development of a wearable analytical tool that alarms the user prior to the onset of a seizure, accompanied by the percent probability of the occurrence. This was feasible through deep learning and data-mining approach, which allows interpretation of the electroencephalogram (EEG) data gathered from the user. The system utilizes a prediction algorithm that constantly updates itself through absorbing and learning from the alterations of brain patterns, providing a more accurate prediction. The emergence of big data, which harbours diverse datasets including neuroimaging, EEG and data obtained from the omics fields, has the potential to decipher the complexity of the human brain. When coupled with mining approaches, it can deliver personalized treatments or intervention strategies to patients to improve their quality of life and health. The evolution of neuroscience has vastly improved the understanding of epilepsy. However, it is still lacking in good clinical studies and molecular targets for novel drug discoveries and the underlying mechanisms of drug-resistant epilepsy has still yet to be explored. Collective effort across multiple disciplinaries is required to bridge the gap between basic research and clinical epileptology. With the aid of big data and artificial intelligence, the efficiency of healthcare systems along with the social and economic burden of epilepsy can be significantly improved.
The International League Against Epilepsy (ILAE), is the world's prominent association of health care professionals and scientists. The ILAE aims to promote awareness on epilepsy, as well as providing a platform for the epilepsy research community in various regions all around the world. The ultimate goal is to improve the quality of life of people with epilepsy, improving the measures taken to prevent, diagnose and treat epilepsy. Recently formed, the Young Epilepsy Section (YES) of the ILAE is global organization of young and early career researchers, clinicians, healthcare providers including pharmacists with interest in epilepsy with the goal to enhance professional development of young people working on epilepsy, and to deepen the participation of young people in the ILAE for their mutual benefit. This includes facilitating peer and mentor support, providing networking and educational opportunities tailored to young people in epilepsy, working to increase their involvement in epilepsy conferences, as well as supporting future leaders of the ILAE and its various tasks forces. It seeks to achieve this using a grassroots-style organization to effect change at the local, regional, and international levels of epilepsy care and research. I have been elected as a representative for the region during YES Kick-off workshop early in this year in London. Malaysia is going to play a key role in supporting YES-ILAE activities in the Asian and Oceanian region due to its strategic location, relatively younger, and diversity. Our challenges to tackle epilepsy and young researchers related issues are common and this could drive us to work together to design projects which can impact the policies in the region.
In conclusion, pharmacists play a far more intricate role in public health, especially in combating epilepsy. They are the ones who are capable of traversing between different sectors, filling in those gaps which impede advancements. Pharmacists possess the knowledge about epilepsy, the information could then be disseminated to the public as they deal with them on a daily basis. Useful data such as patients experience, health condition, and personal encounters could also be gathered for further collaboration with medical physicians in clinical studies. These roles of pharmacists in combating epilepsy are pivotal and should not be overlooked if any, their contributions should be widely recognized and better acknowledged. Let's break our silos and join hands together to play our part in the multidisciplinary teams working on epilepsy.
References:
1. Trinka, Eugen, et al. "Epilepsy in Asia: Disease burden, management barriers, and challenges." Epilepsia (2018).
2. https://www.ilae.org/about-ilae/topical-commissions/young-epilepsy-section-yes
3. Tan, Chong Tin, and Shih Hui Lim. Epilepsy in south east Asia. 1997.
The opinions expressed in the article are the writer's own and do not reflect the view of MPS YPC.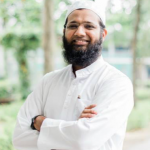 Dr. Mohd. Farooq Shaikh is a Senior Lecturer and leading neuropharmacology research group at Jeffrey Cheah School of Medicine & Health Sciences said, "Finding a cure for epilepsy is our 'holy grail' and we hope zebrafish research will help us to improve quality of life of the patients." Dr. Farooq is a recipient of Monash's PVC award for Excellence in Research and Malaysian Society of Neuroscience's best publication award in 2017 for his research in epilepsy. He is also an elected representative of Young Epilepsy Section of International League Against Epilepsy for Asian and Oceanian region where his role is to support and promote epilepsy research in younger generation. He is also member of executive committee of Malaysian Society of Pharmacology & Physiology (MSPP) and Malaysian Epilepsy Society.