Welfare
INTRODUCTION
Writing a good chapter at the beginning of your career is not an easy task, moreover when you have no idea of what's waiting for you.  You may be fortunate to sail on a smooth, happy journey, or you may lose yourself in the streams of unhappy incidents, which burn your passion out without you realizing about it. But, ask yourself, should this be the end? If you are looking for someone who could stand beside you, giving you a pat on your shoulder, listening to you, WE ARE HERE FOR YOU. If you need a lift upwards, a way out of misery, a support to move forward, WE ARE READY TO HELP YOU.
As Mahatma Gandhi says, "Man becomes great exactly in the degree in which he works for the welfare of his fellow-men." Here we are, the Welfare team of MPS Young Pharmacist Chapter.  We exist because WE CARE.
OBJECTIVES
To plan and carry out projects/programmes concerning MPS-YPC member's welfare and benefits

To promote and foster members engagement and interaction via group activities/entertainment

To act as first point of contact for Provisional Registered Pharmacists (PRPs), preceptors and young pharmacists to raise up any concerns on welfare/misconducts/unethical behaviour

To work with other departments to maintain a positive MPS-YPC member-centred environment
PROFESSIONAL DEVELOPMENT FUND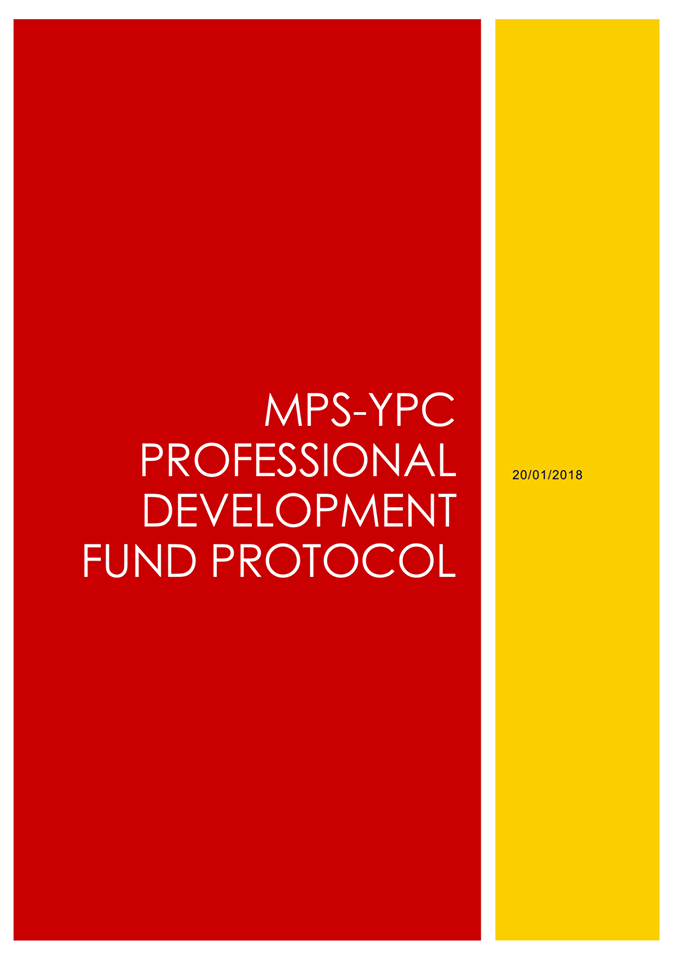 FREQUENTLY ASKED QUESTIONS
What are the current premises for PRP training in Malaysia?
Under Second Schedule of ROPA 1951:
Is there any PRP vacancy in NPRA?
No. NPRA is not listed as PRP training premise under Second Schedule of ROPA 1951.
Are there any different routes to work in Clinical Research Centre or Clinical Research Malaysia?
There are no Clinical Research Centres being listed as a PRP training premise under Second Schedule of ROPA1951.
Is there a possibility that the listed liberalized training premises are not accepting any PRPs?
Liberalized training premises reserve the right to not hire PRPs at any time.
Are there any differences if I do my PRP training in private hospital or government hospital?
Yes, the training modules are different between government and private hospitals. However, these differences do not affect the quality of the PRP training because all modules have been approved by LFM.
How long is the waiting period after online PRP application? Do we need a pharmacist or pharmacy school administrator to verify our documents?
Online application is done through PRiSMA (https://prisma.pharmacy.gov.my/) and it will be processed in seven (7) working days according to LFM's Client Charter. All documents need to be verified by a registered pharmacist or registered medical practitioner.
How do pharmacy graduates apply for PRP training at government healthcare facilities?
Step 1 : Apply for Provisionally Registered Pharmacist (PRP) Certificate via PRiSMA at https://prisma.pharmacy.gov.my/. Upon successful application, applicant would receive Sijil Pendaftaran Bersyarat with your PRP registration number.
Step 2 : Applicant has to fill in the "Pendaftaran Pekerjaan dalam Perkhidmatan Awam (SPA8i)" at https://putra2.spa.gov.my/spa8new/login.jsp to apply for a PRP position in government healthcare facilities.
Step 3 : Successful applicant has to apply for KKM's training premises posting at epharmacist.moh.gov.my and need to attend Program Transformasi Minda (PTM) session before posting.
***Please take note that the PRP application process is subjected to changes. Kindly check the latest information at Pharmacy Programme's website www.pharmacy.gov.my
If I graduated from an overseas university, how can I apply as a PRP in Malaysia?
If my PRP pin has expired, do I need to retake the Qualifying Examination to Practice Pharmacy?
No retake is necessary. PRP number is for provisional training purpose, hence it's not related to Qualifying Examination.
Is it possible for pharmacy students to take a gap year before doing their PRP?
The validity of PRP number is one (1) year and the PRP has to start the training within one (1) year. The PRP number will be automatically cancelled in PRiSMA after one year and the cancellation needs to be tabled in LFM Board Meeting before it can be renewed.
Does the number of PRP vacancies in MOH hospitals and Klinik Kesihatan change every year? There seems to be more vacancies this year.
Yes, the vacancies in each training premise may change according to KKM needs.
If we undergo PRP training in Klinik Kesihatan, are we going to be attached to hospital?
If i choose to do my PRP training in community pharmacy, will I be paid by my employer during 1 month attachment in klinik kesihatan?
The aim of the training in KK is to allow the PRP to obtain more experience by screening prescriptions. The preceptor has the right to choose whether or not to pay and it is the responsibility of PRP to negotiate with the preceptor.
What is the minimum salary for PRP in government and private sector?
Can we do our PRP training in private sector and FRP in government hospital?
Once you opt for private sector for your PRP, you'll fall under the 'liberalized' category which is the current policy of the Pharmacy Board Malaysia. Hence, you are not allowed to change your training site back to government settings.
Can I change my place of practice to a MOH health clinic during FRP after undergoing PRP training in a MOH hospital?
Yes, more information will be given during Program Transformasi Minda (PTM) session conducted by Bahagian Pengurusan Latihan KKM
If a training premise has been found guilty of misconduct when the PRP(s) have gone through half of their training, are they allowed to continue their training at other premises?
All cases shall be reviewed by LFM on a case by case basis and due considerations shall be given to the PRP to complete the one (1) year training.
For liberalized PRPs who undergo training in settings which involve retail business, there are possibilities where PRPs will be required to contribute a specific target amount of sales. From the perspective of LFM, is it encouraged or allowed for preceptors to set a sales target for PRP?
Sales target is strictly not allowed, as the main aim of the PRP training is to learn. Even in community settings, the premise should not be fully business orientated. The PRP reserves the right to lodge a complaint to LFM in such cases.