2020 Webinars
We're all hit by the ongoing pandemic and it will be awhile before we can all gather in person. However, the learning must go on! There can never be too many webinars and now, you attend one in your pajamas and cross that off your bucket list. You're welcome 🙂
Just click on the links below to register!
1. MyCPBF Webinar 3.0 Sight Matters: Latest Insights Into Age-related Macular Degeneration (AMD)

Date: 8 Aug 2020 (Saturday)
Time: 3.30 pm – 4.50 pm
What is it about: Age-related Macular Degeneration (AMD) is one of the leading causes of irreversible blindness and visual impairment apart from cataract and glaucoma especially in the elderly population. This disease adversely affects activities of daily living and quality of life, causing many individuals to lose their independence in their retirement years. Worse yet, early stages of the development of AMD may not be present thus the diagnosis is usually confirmed in the later stages and would deteriorate progressively.
There are substantial efforts that can be done by pharmacists in this case.
Here we will be exploring on interesting matters accompanied by distinguished speakers from Japan :
An overview of AMD alongside with a discussion on current supplement modalities and possible preventive measures

A review on managing/preventing AMD with lutein supplements

Identifying how community pharmacist can help in managing AMD with ophthalmologist
2. Mental Health Webinar 2.0: The Art of Conversation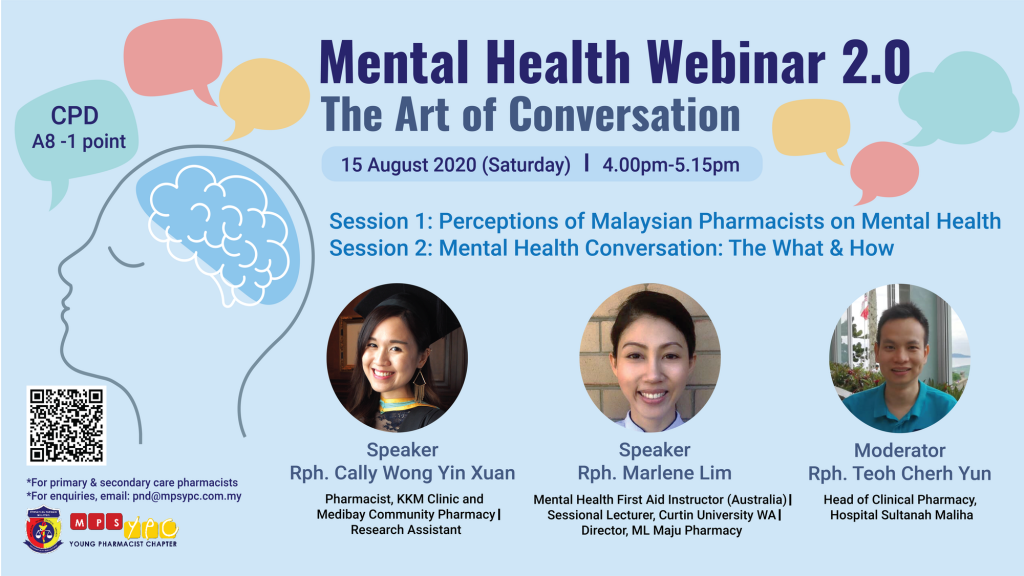 Date: 15 Aug 2020 (Saturday)
Time: 4 pm – 5.15 pm
What is it about:
"Communication is the key!"
Join us to learn the essential mental health communication techniques for effective conversation with someone with mental health problem:
📌Session 1: Perceptions of Malaysian Pharmacists on Mental Health
📌Session 2: Mental Health Conversation: The What & How
1. MIHS 2020 Phase 1 Webinar:
Adoption of Mobile Health Applications in Community Care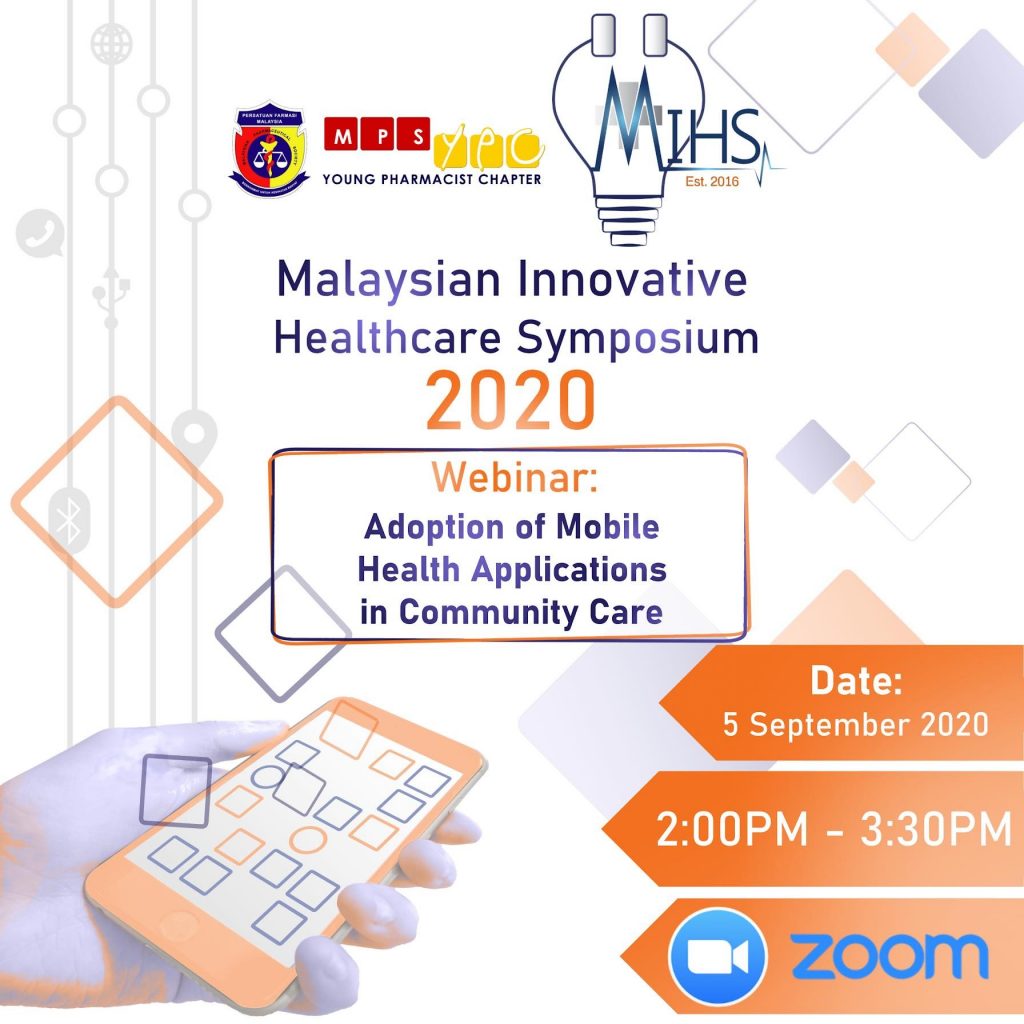 Date: 05 Sept 2020 (Saturday)
Time: 2 pm
What is it about:
Ladies and gentlemen, Malaysian Innovative Healthcare Symposium (MIHS) 2020 proudly presents to you the first event of this year's lineup of programs- webinar themed with "Adoption of Mobile Health Applications in Community Care".
Whats so special about this webinar with the others? 🤔
During this sharing session, our prestigious keynote speakers are invited to share their knowledge and experience in mHealth applications, and it is hoped that our participants will be enlightened to promote the adoption of mHealth applications to their respective communities as means for self-care.
Eager to learn what our speakers got to share? 👍
2. Health Talk 2.0 Webinar: Health Matters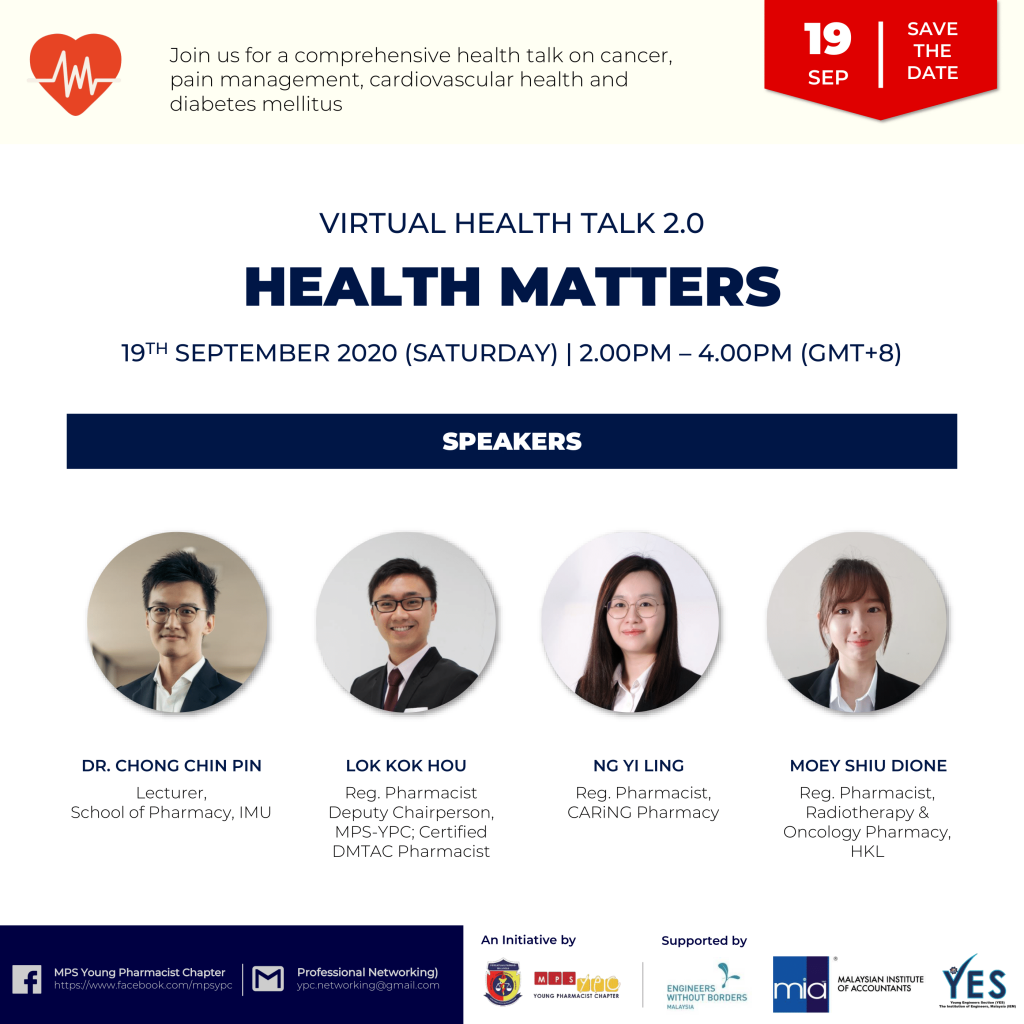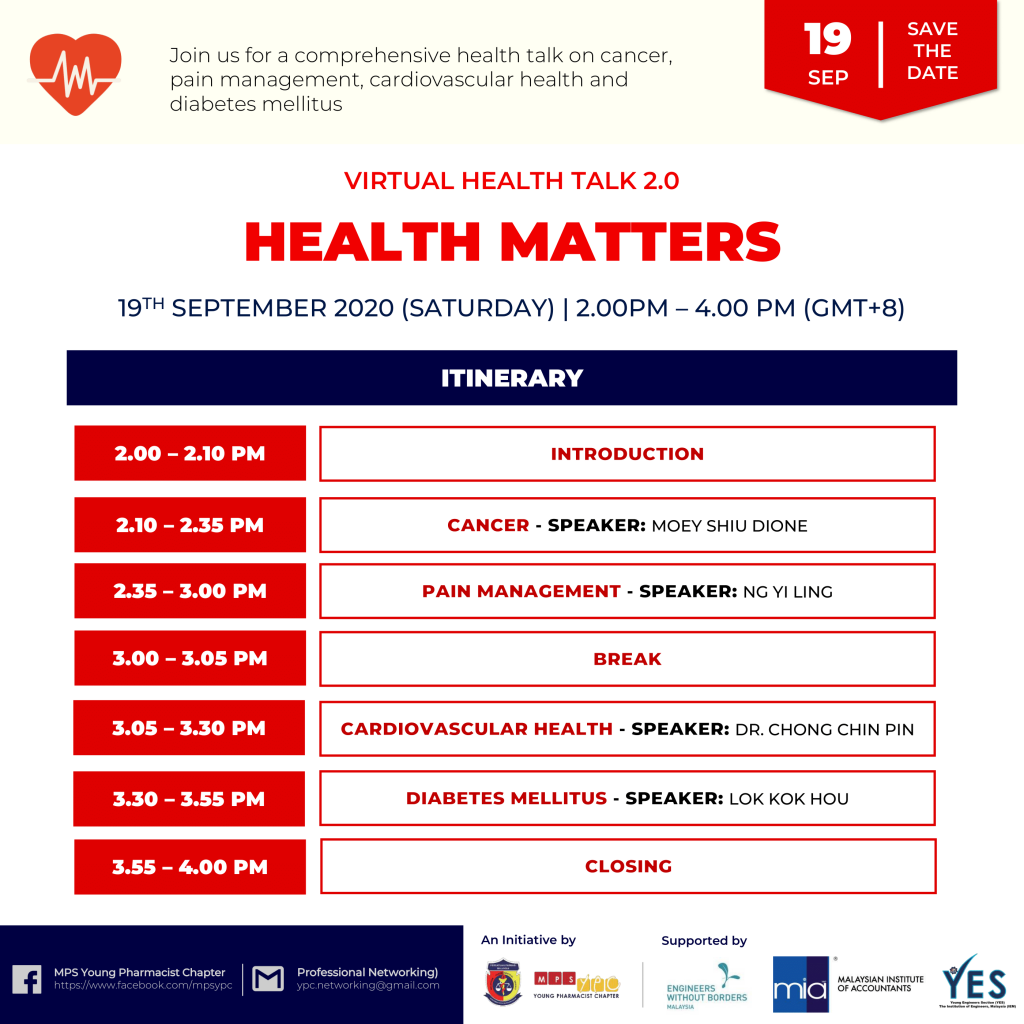 Date: 19 Sept 2020 (Saturday)
Time: 2 pm – 4 pm
What is it about:
Brought to you by the Malaysian Pharmaceutical Society- Young Pharmacist Chapter (MPS-YPC), and supported by the MIA Young Professionals Committee (MIA-YPC), Engineers Without Borders Malaysia (EWBM), Young Engineers Section of The Institution of Engineers, Malaysia (YES- IEM), and the National Young Lawyers and Pupils Committee (NYLPC), the Health Talk is an initiaitve featuring the sharing of experience and knowledge by our up and coming young pharmacists on subject matters pertaining to health care.